CIRC4Life – A circular economy approach for lifecycles of products & services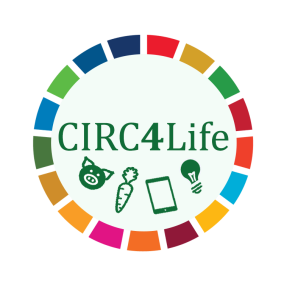 A circular economy is a concept aimed at maximizing the use of wastes generated in the life cycle of a product and thus reduce the consumption of raw materials, the amount of landfilled waste and increase the waste stream used for recovery and recycling. Effective implementation of circular economy requires the development of solutions minimizing the amount of unused resources, including changes in existing business models.
The project is aimed at large scale demonstration of three circular economy business models including: co-creation of products and services, sustainable consumption and collaborative recycling and reuse.
These models will be demonstrated in  following four sectors:
Design, production, selling, recycling and reuse of domestic and industry LED lighting
Reuse and recycling of tablets,
Production of organic vegetables,
Supply chain of pork.
Economic and environmental feasibility of developed circular economy business models will be analysed and assessed.
The IT platform will support the demonstration of business models. This tool will also be used to disseminate information on the results of the project. The project will also include: stakeholders awareness rising, creating of instruments that encourage consumers to recycle and re-use of products and development of tools to assess environmental quality of products and services in the full life cycle. On the basis of projects results, guidelines for policy makers for implementation of circular economy will be developed.
The project is implemented with broad involvement of stakeholders.
The IETU team is involved in activities supporting the development of business models and the demonstrators of sustainable production of organic vegetables. Amongst others, it will perform analysis of sustainability and environmental assessments, in particular regarding the waste management.
The project is realised by consortium:
The Nottingham Trent University, United Kingdom – Project Coordinator
BJORLING STEN ERIK-ENVIRO DATA, Sweden
Jonathan Michael Smith, United Kingdom
Kosnic Lighting Ltd, United Kingdom
FUNDACION CIRCE CENTRO DE INVESTIGACION DE RECURSOS Y CONSUMOS ENERGETICOS, Spain
European EPC Competence Center GmbH, Germany
Institute for Ecology for Industrial Areas, Poland
SWEREA IVF AB, Sweden
Mouvement Mondial des Meres – Europe, Belgium
ONA Product SL, Spain
INDUMETAL Recycling, S.A., Spain
GS1 Germany GMBH, Germany
LAUREA-AMMATTIKORKEAKOULU OY, Finland
Centre For European Policy Studies, Belgium
Institute of Communication and Computer Systems, Greece
SIG DE RAEE Y PILAS, S.L. (Recyclia), Spain
SAT Nº 2.439 ALIA, Spain
Project duration – May 2018 –  April 2021
Total project cost: € 7 228 773,75
Grant agreement ID: 776503
More information is available on the project webpage: www.circ4life.ue
Coordinator of Polish activities – Dr Beata Michaliszyn, Research and Development Department at IETU, email:
This project has received funding under the European Union's Horizon 2020 research and innovation programme under Grant agreement No. 776503.