SALUTE4CE – Integrated environmental management of SmALl Green Spots in FUncTional Urban ArEas following the idea of acupuncture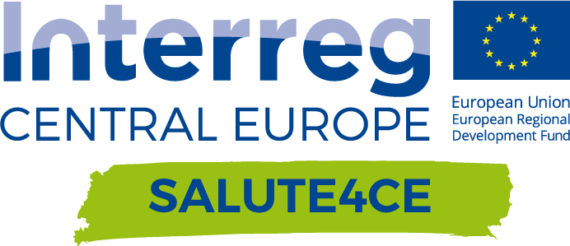 In many European cities there is a problem with finding large areas for development of greenery. Very often such areas are used for other, more profitable purposes (developers and investors offer favourable conditions, including tax benefits), so city authorities choose functions other than green areas. This also applies to post-industrial areas, which usually have infrastructure (approach road, utilities) and therefore are also attractive for economic functions.
On the other hand, cities are aware of the need to provide green areas for various purposes. It is not only about providing recreational functions and aesthetic values, but also about the growing need for solutions in the field of adaptation to climate change. Green areas and the so-called blue infrastructure is particularly important for strengthening the resilience of cities to climate change. What can be observed is the lack of native species. We have only access to their subspecies. There are local gene banks in botanical gardens but apart from forest nurseries no one produces local plant material. In the world there are already some solutions which support the development of green infrastructure with respect for native and habitat plants.
The idea of ​​the SALUTE4CE project implemented under the INTERREG Central Europe Programme is to use small areas in the city for green plantings. The project aim is to promote the idea of ​​restoring native vegetation. The project coordinator is the Institute for Ecology of Industrial Areas in Katowice. Ten partners from 5 countries are involved in the project: the Czech Republic, Slovakia, Germany, Italy and Poland. The partners of the consortium are 4 cities, including Chorzów. In each of these cities, pilot investments will be implemented at 4 selected locations as part of the urban environmental acupuncture system. The concept is based on surgical and selective intervention into the urban tissue (point action) by introducing greenery to achieve the effect of improving aesthetics, quality of life, and thermal comfort as well as strengthening ecosystem services in the city. The necessary condition for achieving this effect is a large number of these points, as in medical acupuncture. Close cooperation with inhabitants is expected from the very beginning of the concept implementation in order to develop a sense of joint ownership of the concept and responsibility for taking care of these places in the future.
The project is implemented by a consortium consisting of the following partners:
Institute for Ecology of Industrial Areas, Poland - Project Leader
City of Chorzów, Poland
Silesian Botanical Garden, Mikołów, Poland
Leibniz Institute of Ecological Urban and Regional Development, Dresden, Germany
Thuringia - Impulsregion, Germany
Leading Innovation and Knowledge for Society, Italy
Development Agency LAMORO, Italy
Municipality of Alessandria, Italy
Institute for Sustainable Development of Settlements, The Czech Republic
City of Liptovsky Mikulas, Slovakia
Total project cost: € 2 195 850
Project implementation period: April 2019 - March 2022
Grant Agreement ID: CE1472
More about SALUTE4CE project on the website: https://www.interreg-central.eu/Content.Node/SALUTE4CE.html
Project Coordinator - Dr. Anna Starzewska-Sikorska, email:
The project is financed by the INTERREG Central Europe Programme.