IETU's Central Laboratory
IETU's Central Laboratory offers the following services:
determination of organic and inorganic contaminants in various elements of the environment, including:
- waste,
- secondary solid fuels,
- soil,
- water,
- sewage,
- sewage sludge,
- plant material,
analyses of physical and chemical properties of various materials (matrices),
field tests and measurements (temperature, reaction, specific electrical conductivity etc.).
The laboratory ensures high standard of the provided services due to:
internal and external quality control (proficiency testing),
improvement of the implemented management system compliant with PN / EN ISO/IEC 17025:2018-02,
implementation of new research methods and techniques,
use of modern measurement equipment.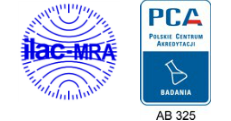 IETU's Central Laboratory accredited by the Polish Center for Accreditation, Signatory of ILAC MRA, Certyficate No AB 325 for performing chemical analyses and sampling of: sewage, sewage sludge, drinking water, testing physicochemical properties of solid secondary fuels and physical properties of water, soil, waste, sewage sludge.