UPSURGE – City-centred approach to catalyse nature-based solutions through EU Regenerative Urban Lighthouse for pollution alleviation and regenerative development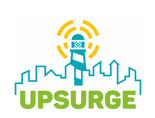 The UPSURGE project concerns the analysis, selection and evaluation of Nature Based Solutions (NbS) that help cities reduce environmental pollution and restore the urban environment. Twenty three entities take part in the project. These are European cities, universities, research institutes and non-governmental organisations.
One of the overarching goals of the project is to develop an innovative approach to the air quality improvement. The project implementers will create the so-called reference network of entities, cities and institutions which will be involved in testing innovative nature-based solutions responding to the problems of modern cities and facilitating their adaptation to climate change.
The project will help cities identify their potential for regeneration and provide knowledge and support for regenerative urban development. For this purpose, a European Guide for Urban Renewal (Regenerative Urban Lighthouse) will be developed, which will include such tools as: Renewal Index    (a continuous self-checking progress mechanism) and the Knowledge and Consultation Centre for Urban Renewal, aimed at motivating cities and supporting them in the process of urban environment regeneration.
IETU contribution to the UPSURGE project is quite significant. IETU scientists carry out two tasks: development of a method for assessing the results of NbS with regard to the air quality and improvement of climate neutrality, and establishment of the Knowledge and Consultation Centre for Urban Renewal. IETU will also be responsible for communicating and disseminating the project results.
The second Polish member of the UPSURGE consortium is Miasto Katowice (City of Katowice), represented by Zakład Zieleni Miejskiej (Urban Green Space Department). As part of the NbS demonstration, green stops will be created in the area of ​​the Urban Heat Island in Katowice. IETU will cooperate with the City of Katowice as a consultant for the implementation of nature-based solutions in the city.
Konsorcjum projektu:
E-ZAVOD, ZAVOD ZA PROJEKTNO SVETOVANJE, RAZISKOVANJE IN RAZVOJ CELOVITIH RESITEV, Slovenia (Coordinator)
ACONDICIONAMIENTO TARRASENSE ASSOCIACION, Spain
BEEODIVERSITY, Belgium
BELFAST CITY COUNCIL, The United Kingdom
BUDAPEST FOVAROS XVIII. KERULET PESTSZENTLORINC-PESTSZENTIMRE ONKORMANYZATA, Hungary
BURST NONPROFIT KFT, Hungary
COMUNE DI PRATO, Italy
DIMOS PATREON, Greece
FONDAZIONE OPERATE, Italy
FUNDACION AITIIP, Spain
GEMEENTE BREDA, The Netherlands
ICLEI EUROPEAN SECRETARIAT GMBH (ICLEI EUROPASEKRETARIAT GMBH), Germany
INSTITUT WCYCLE MARIBOR - INSTITUT ZA KROZNO GOSPODARSTVO, Slovenia
INSTITUTE OF COMMUNICATION STUDIESSKOPJE, Republic of North Macedonia
INSTYTUT EKOLOGII TERENÓW UPRZEMYSŁOWIONYCH, Poland
KATOWICE - MIASTO NA PRAWACH POWIATU, Poland
OPENCONTENT SOCIETA COOPERATIVA, Italy
POR CONSULT DOO ZA POSLOVNO SAVJETOVANJE, Croatia
THE QUEEN'S UNIVERSITY OF BELFAST, The United Kingdom
UNIVERSITAET FUER BODENKULTUR WIEN, Austria
UNIVERSITAT PASSAU, Germany
UNIVERSITEIT ANTWERPEN, Belgium
UNIVERSITY OF LEEDS, The United Kingdom
Project implementation period: 2021-2025
Total budget: € 9 703 462.50
EU contribution: € 9 320 400
Agreement number: 101003818
Project Coordinator at IETU: Dr. Anna Starzewska-Sikorska, e-mail:
Funding source:
H2020-EU.3.5. - SOCIETAL CHALLENGES - Climate Action, Environment, Resource Efficiency and Raw Materials
H2020-EU.3.5.1. - Fighting and adapting to climate change